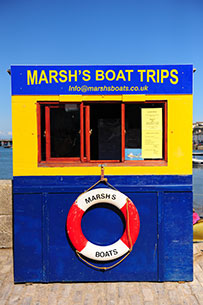 Walt and Tom Marsh started the business and it has been continued through the generations of the Marsh family.
Various boats have come and gone over the years.
Sid Marsh continued from Tom Marsh with the Old Wooden rowing boats that he hired out to the general Public so they could go for a row around SWANAGE bay, Some of the boats had the good old British seagull engine outboards on the back.
Included in the hire of the boat was a spare spark plug & plug spanner, If you wanted to do a bit of fishing and needed some sort of anchor, a large dubber and a length of rope was provided.
Sid retired 1973 and sold his hire boats to his son Len Marsh, Len decided to change the hire boats in to runabouts, as the demand for rowing boats was no more in the seventies,
Mini speedboats was the future in those days. Sid died in 1974.
Reg Marsh operated three boats from the quay running sight seeing & fishing trips working & arguing along side Sid.
The MV Laurel Leaf used for the sight seeing trips capable of carrying around 45 people. Doing 45 min boat trips to Old Harry Rocks, or to the Lighthouse & Caves skippered by Reg himself. The MV Endeavour was used for the mackerel fishing trips skippered by Jim Hardy.
The boat trips used to run from the main beach at SWANAGE They ran a long walkway out to sea from the mowlem slipway up until World War II broke out, when the beach was then barricaded.
Reg died March 1978 so Len Marsh bought The Endeavour from the family and continued with just the one passenger boat for a few years, then he bought a boat from Weymouth called the Quiet Waters capable of carrying 60 people.
We then ventured further a field to Brownsea Island
1988 Len sold the hire boats, and bought a vessel called the Maid Of Sandbanks, capable of carrying 64 passengers, that was run by Ian Marsh & then by Len's son Roger.
1998 Len bought a boat to replace the Endeavour & Quiet Waters as these two boats was coming to the end of their working life and named it Precious after his Grandchildren.
Len decided to semi retire at the end of 2004. The Maid of Sandbanks was sold to the Isle of Skye to carry on her work as a passenger vessel.
Len's son Roger has bought the Business from him and is continuing the family tradition with the MV Precious offering sight seeing & fishing trips.
Len died October 2007 but before he gave up his fight against cancer he managed to see the season of 2007 out.
So if you decide to come on one of our trips your custom is much appreciated.